Tripura News
'State Govt is depriving own State's Unemployed Youths to appoint Other States' People in Govt Depts', said Tripura BJP MLA Sudip Roy Barman over Group-C, Group-D Recruitment, Sought 'Probe'
TIWN Aug 19, 2021
PHOTO : BJP MLA Sudip Roy Barman. TIWN File Photo.
AGARTALA, Aug 19 (TIWN): Tripura BJP MLA Sudip Roy Barman has criticized the BJP led State Govt over its decision to give employment to other states' unemployed persons amid Tripura is suffering from massive unemployment. Reacting over the upcoming Group-C and Group-D exam's model where the Bengali subject has been removed, Sudip Roy Barman said, "The Joint Recruitment Board of Tripura (JRBT) has taken decision to recruit employees in Group D and Group C posts, which is scheduled to be held on August 22 but centering its syllabus and system, questions are being raised and resentments have erupted among the job aspirants of the state". He said, "When TPSC has a model which needs to be followed during recruitment of TCS, TPS, why JRBT will not follow a particular model ? Why is the JRBT syllabus endless ?"
"For the exams, earlier Bengali was kept as a preferred subject but suddenly the Bengali subject was excluded and English was added, whereas in big examinations throughout the country, local languages have been given preferences", the MLA said.
Sudip Roy Barman said that it was done to open up the opportunity for the other states' people.
He further asked, why no subject preference was announced just like in TPSC History, Geography are given preferences ? The MLA also demanded immediate cancellation of the exams and a proper investigation in the matter.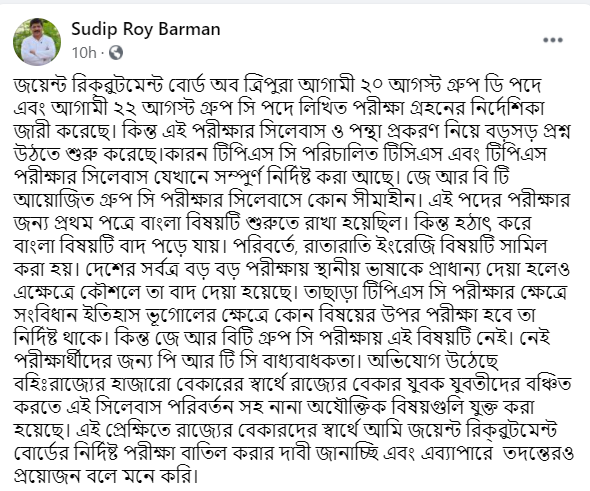 BJP MLA Sudip Roy Barman was a Cabinet Minister holding the Portfolio of Health Dept under Biplab Deb Govt. He was terminated from the Cabinet in 2019 after he criticized Biplab Deb led Home Dept over law and order after a brutal attack took place on a Doctor.