Tripura News
MBB College Clash : ABVP leader was Slapped by SDPO after he Attacked on Police
TIWN Aug 27, 2021
PHOTO : Tussle between Police, ABVP members. TIWN Pic Aug 27, 2021
AGARTALA, Aug 27 (TIWN): An ABVP member was slapped by SDPO Ramesh Yadav as he was attacking police officials and also the other people who were searching for a girl who was kidnapped by ABVP members for her attempt of promoting Trinamool student union.
The girl was beaten up, her mobile was broken by ABVP members.
The students under ABVP then attacked the police, when getting a complaint, the police came to the College to rescue the girl.
To control the situation, the police officer raised hand on one of the students who was behaving very violently but then ABVP members together tried to attack the officer.
The ABVP member who held the main attack asked, then told the SDPO, "Who are you.......? I don't know you as a police officer.........."
The girl was recovered later but no statement came from police. SDPO Ramesh Yadav said, after talking to both sides, a statement will be given.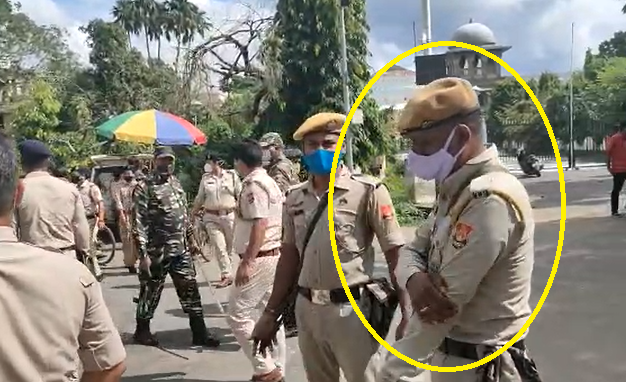 Many police officials received injuries in ABVP, TMC tussle. TIWN Photo Aug 27, 2021