Tripura News
Fake news in Social Media : Tripura Police alerts Netizens
TIWN Nov 22, 2020
PHOTO : Fake News spread in social media.
AGARTALA, Nov 22 (TIWN): Tripura police have alerted the people of Tripura, specially those who are using social media, asking not to trust in rumours.
Police has issued a notice
Below circulated news is false and fake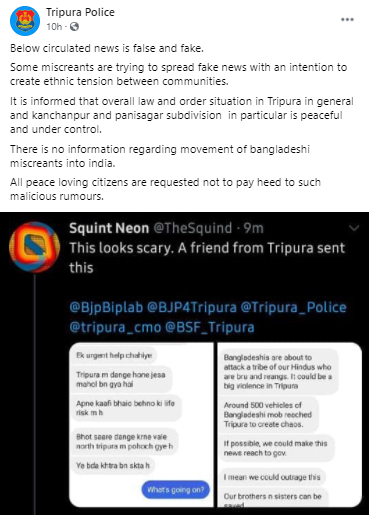 "Some miscreants are trying to spread fake news with an intention to create ethnic tension between communities. It is informed that overall law and order situation in Tripura in general and kanchanpur and panisagar subdivision in particular is peaceful and under control. There is no information regarding movement of bangladeshi miscreants into india. All peace loving citizens are requested not to pay heed to such malicious rumours", said Police Dept in its social media.