Tripura News
Resentment erupted as Tripura Govt has not appealed in Supreme Court anything for 10323 teachers : No extension after 31st March
TIWN March 28, 2020
PHOTO : 10323 teachers holding protest. TIWN File Photo.
AGARTALA, March 28 (TIWN): Resentment hits 10323 teachers as from Tripura Govt side nothing was done yet on urgent basis for the 10323 teachers' livelihood. Report said, Tripura Govt did not appeal to extend 10323 teachers jobs after 31st March. According to news report on the ad-hoc extension, Court has not said anything neither from Govt side, anything was appealed. After 31st March, the jobs of 10323 teachers will not exist. Although in Assembly, Education Minister Ratanlal Nath promised to appeal in Supreme Court for 10323 teachers' ad-hoc extension but practically nothing was done, said a local newspaper.On March 24, Supreme Court led terminated Tripura's 10323 teachers' had demanded 3 months extension permission from the Supreme Court as due to Corona-Virus outbreak everything is at halt.
Also, a deputation was placed by the teachers in this regard to the higher authority.
Teachers said, they think Supreme Court will surely permit that as across India relaxations are given for this deadly disease including Court matters, but nothing was reported positively.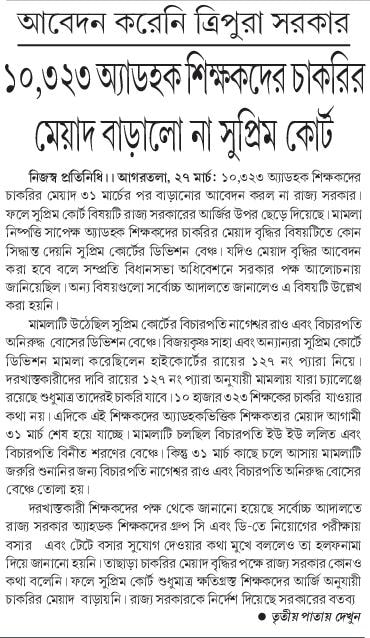 News Published in local paper