Tripura News
Illegal Liquor Parties go high amid Lockdown : SDM, Police busted illegal liquor sales in Gol Bazar inside 'Locked' Shop
TIWN March 27, 2020
PHOTO : SDM, Police busted illegal liquor sales inside a shop in Gol Bazar. TIWN Pic March 27, 2020
AGARTALA / NEW DELHI, March 27 (TIWN): SDM Agartala Ashim Saha with his team and Police jointly have busted illegal liquor sales inside a shop at Gol Bazar, Agartala, just after one day that a massive liquor gathering was found in Battala. To ensure public safety, various Govt officials are working day-night to meet the public demands and statewide SDMs and other officials have continued visiting various places to check whether the Lockdown's protocols are being obeyed or not and with such actions, various illegal works are also exposed in public and actions are being taken against anti-socials whenever is found. With lockdown nationally, various shops except grocery shops, medicine and raw food items for cooking are shuttered down across Tripura. But taking the chance of shuttered down shops across Tripura, illegal gatherings have gone high. During a visit in Gol Bazar today, accidentally on such a shop was found which was doing illegal business of liquors. 2 persons were arrested from the shop whereas this is not the isolated incident in this state but more incidents are coming out from various parts where amid lockdown, illegal gatherings are going on.
The visit was made to check the gatherings in markets as there is no point of lockdown if gatherings go on like this. But to check the public gathering, illegal liquor trades are now coming out in broad-day-light.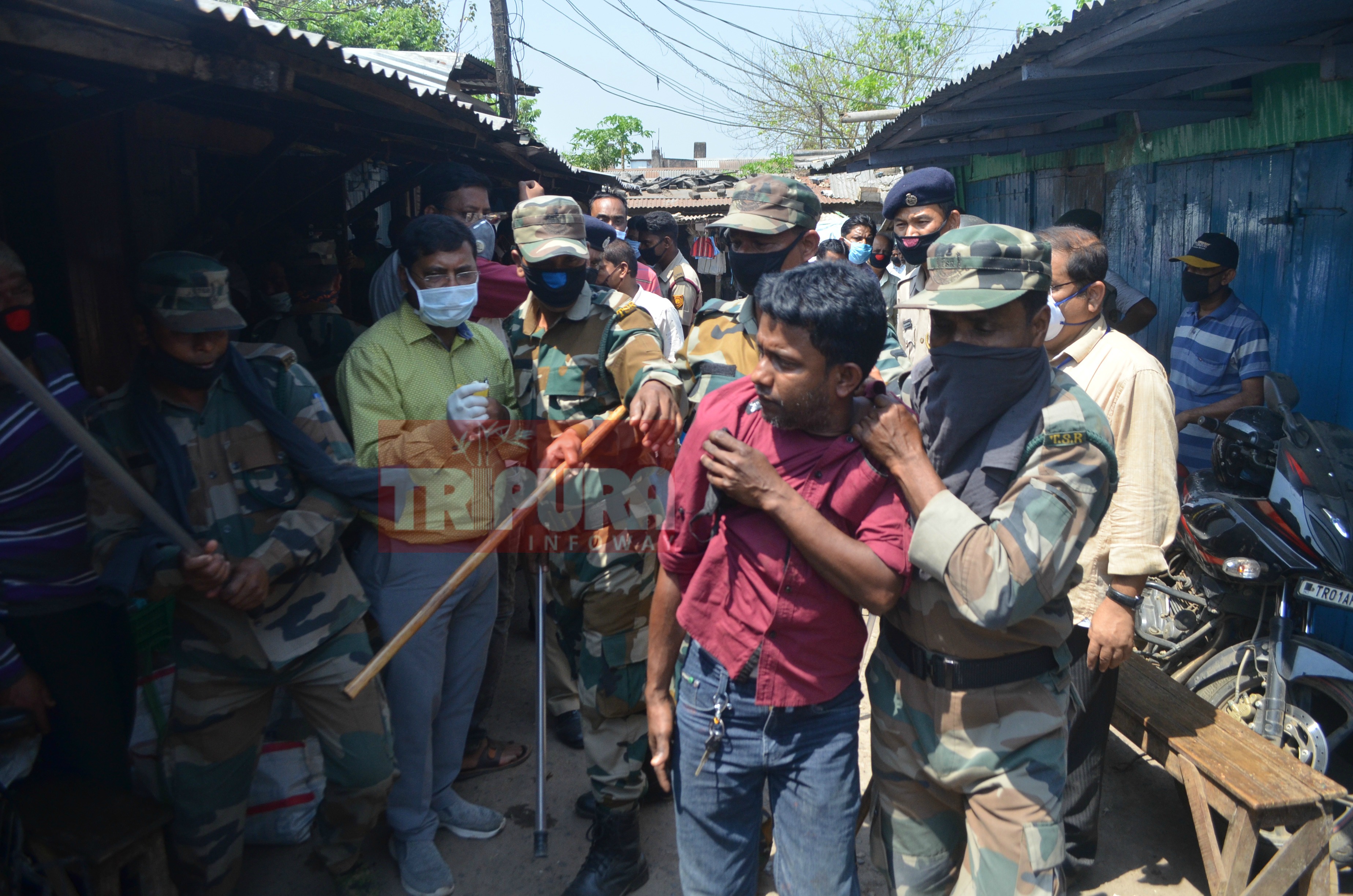 Man arrested from liquor party-gathering from shuttered down shop in Gol Bazar, Agartala
As amid lockdown due to Corona-Virus, public gatherings are turning markets suffocating, SDM, Agartala has visited markets in Agartala to ensure social distance setups.
All the public-walking roads which were occupied by shop-keepers have been opened for spaces in Gol Bazar. Same checking is going on across the city.
SDM Ashim Saha has ordered all sellers to maintain that social distance, otherwise actions will be taken. SDM also has criticized the people who are trying to buy lots of items from markets, causing crisis.