Tripura News
Tripura : Biplab Deb 'Shut-Out' Tripura TV Channel for Publishing Trinamool's News
TIWN Aug 12, 2021
PHOTO : PB 24 channel functioning only in Social Media.
AGARTALA, Aug 12 (TIWN): Amid the ongoing arrests of Trinamool activists in state, Tripura's most popular TV channel PB 24 which is the only channel has maintained visual quality with standardized anchoring has been brought under an unprecedented shutdown by Biplab Deb Govt since it had live-telecasted Trinamool All India General Secretary Abhishek Banerjee's visit on August 8.
No prior notice had been given to the TV channel owner before stopping broad-casting. Same happened with many other local TV channels earlier since 2018 in Tripura and various TV channels such as Mrinalini ENN, Akash Tripura, Channel Din-Rat etc were illegally shut down and few counted sub-standard TV channels which secretly agreed to propagate only BJP flavoured news are functioning. In exchange they have been paid 10 times more than other existing channels in Tripura (which try to show neutral news). The imbalance in payments to TV channels itself is the biggest media racket in the state. Also some of the bootlicker channels' categories were raised to "A" which is no-way qualified if any audience compares them with Calcutta based Bengali TV channels.
Trinamool Congress is the only party which has criticized the Biplab Deb Govt for shutdown PB24 and Opposition leader Manik Sarkar due to his personal ego clash with the media house has not also condemned the undemocratic action of BJP Govt. PB 24 is a neutral media, critical to all parties due to unfavoured news publication. However, in General, other CPI-M leaders have condemned the Govt action in their personal statements.
Though the reason behind the shutdown is unexplained yet, it is clear that on Abhishek Banerjee's arrival day, this TV channel went on shut down in the evening. Today is Day-4 of that shutdown.
Few months back, BJP leaders in Gomati and South Dists had burnt PB24 channel's partner "Pratibadi Kalam" newspapers' bundles beating the hawker for distributing the paper.
Communist backed newspaper "Daily Desher Katha" has also been unofficially banned (after the High Court did not permit to ban it) and hawkers are restricted to distribute its copies.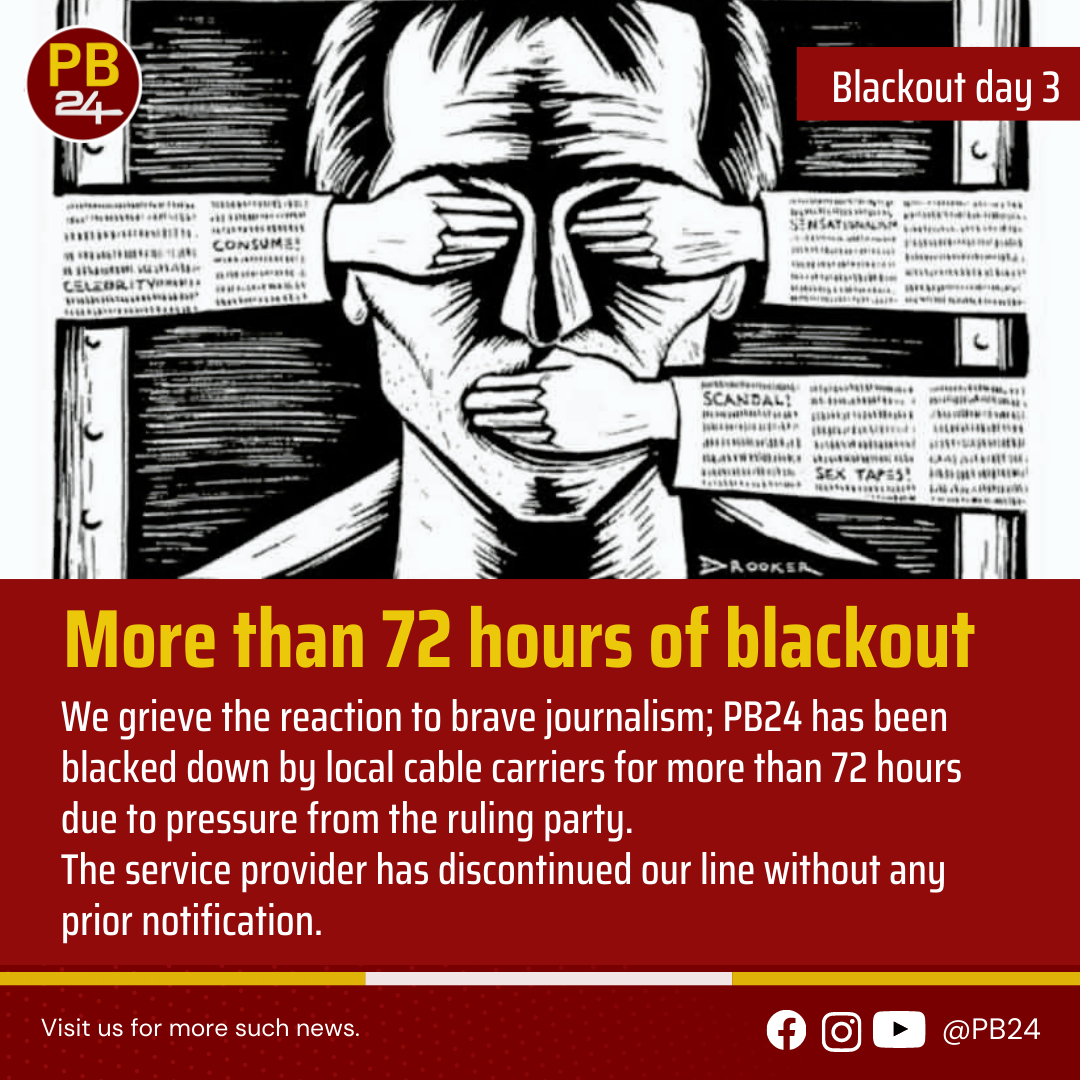 Our media Tripurainfoway.com (TIWN) which is the only non-profit media in Tripura has been illegally blocked by Biplab Deb Govt with help of IT Dept at Centre. Surprisingly, after the Court's order also, it was not Unblocked.