Tripura News
No lesson learnt by BJP Govt after massive poll defeat at Delhi ! Public asked Tripura CM Biplab Deb to step down after Inhuman imposition of ICU bed-charge, Scrapping of Free Medical Services, asked to follow Kejriwal's Delhi model
TIWN Feb 18, 2020
PHOTO : BJP Govt in Tripura continues to impose charges on health services, public asked Govt to follow Kejriwal model
NEW DELHI / AGARTALA, Feb 18 (TIWN): The Delhi poll result which dropped BJP's expectation in a single digit seat number due to nationwide anti-people decisions, now seems was not enough lesson for the Tripura BJP Govt. Day after Delhi CM Arvind Kejriwal said in his oath taking programme, "Shame on such CMs who takes money from Govt hospitals patients", Biplab Deb instead of resuming the scrapped Free Medical Services, has further imposed more new fees in the Health Service's charts of Govt hospitals. The Delhi poll defeat where Arvind Kejriwal won the election by Kaam-Ki-Raajniti and freeing medical services across Delhi, even free facilities for accident patients in private hospitals, the 'undeserved' Chief Minister of Tripura Biplab Deb is just running on the opposite direction of Kejriwal Govt.. Biplab Deb has scrapped free medical services and also imposed bed charge in the ICU for the BPL families also at Rs. 250 and Rs. 500 for APL. Public have asked Biplab Deb to get out of the Health Ministry and also from the state who came two years before Tripura election in state politics and now ruining the state's economy.
From Tripura Sundari temple's food charge to electricity, water-tax, trade license, health services everywhere only hikes and hikes are reported under Biplab Deb Govt in exchange of luxurious life, high security for him and also his family members per person getting securities costing lakhs of public taxes.
After Tripura Govt imposed ICU bed-charges in a notification on February 17, various videos of Delhi health services viral in Tripura through social media.
This anti-people move of the BJP Govt is also a violation of Article 21 of the Indian constitution as well as International Human Rights Law where "Right to Health" preserved.
A BPL person now has to pay Rs. 250 whereas an APL Rs. 500 as only bed-charge and rest other things like oxygen and medicines are separate. So, now ICU will be given based on the economic capability of the patients, not for the need ! The notification was issued on 10th February, 2020 with a fresh signature of 17th February, 2020 from the day of effect. No.F.2. (496)-Med/User Charges/ 2017/27614-54 said, "With reference to the meeting held on 31/10/19 at AGMC and GBP hospital chaired by Secretary, Health & Family Welfare it has been decided that the ICU bed-charges of AGMC and GBP hospital will be applicable as per Govt notification vide no. F.1 (1138)-DHS/2016/3591(V-II) dated 19-7-2019 with immediate effect. "The bed charges of ICU is Rs. 500 per day for APL patients and Rs. 250 per day for BPL patients", said the circular.
Earlier, the Govt imposed charges for tests, operations etc in the hospital by scrapping free medical services. Now, high charges of ICU bed per day is imposed.
https://www.youtube.com/watch?v=ehVCj3UvKe4&feature=youtu.be&fbclid=IwAR32D07GLBSK6HXzvDytVmaMLCg0BRlNU2w6Q__uYLDv__UDMHoSuvTJpCs TIWN YouTube Link. Delhi CM's statement over health service on oath-taking day fails to teach undeserved Tripura CM Biplab Deb.
Not only nation but what BJP Govt is doing is violation of international human rights law. Right to health refers to and mean the most attainable levels of health that every human being is entitled to. Health has been much regarded as the basic and fundamental human right by the international community under international human rights law. In contrast to all the other human rights, the right to health creates an obligation upon the states to ensure that the right to health is respected, protected and fulfilled, and is duly entitled to all its citizens.
Article 21 can only be claimed when a person is deprived of his "life" or "personal liberty" by the "State" as defined in Article 12. Violation of the right by private individuals is not within the preview of Article 21. Article 21 secures two rights: 1) Right to life, and 2) Right to personal liberty.
'RIGHT TO LIFE' (Article 21, Indian constitution)
'Everyone has the right to life, liberty and the security of person.' The right to life is undoubtedly the most fundamental of all rights. All other rights add quality to the life in question and depend on the pre-existence of life itself for their operation. As human rights can only attach to living beings, one might expect the right to life itself to be in some sense primary, since none of the other rights would have any value or utility without it. There would have been no Fundamental Rights worth mentioning if Article 21 had been interpreted in its original sense. This Section will examine the right to life as interpreted and applied by the Supreme Court of India. Article 21 of the Constitution of India, 1950 provides that, "No person shall be deprived of his life or personal liberty except according to procedure established by law."
'Life' in Article 21 of the Constitution is not merely the physical act of breathing. It does not connote mere animal existence or continued drudgery through life. It has a much wider meaning which includes right to live with human dignity, right to livelihood, right to health, right to pollution free air, etc. Right to life is fundamental to our very existence without which we cannot live as a human being and includes all those aspects of life, which go to make a man's life meaningful, complete, and worth living. It is the only article in the Constitution that has received the widest possible interpretation. Under the canopy of Article 21, so many rights have found shelter, growth, and nourishment. Thus, the bare necessities, minimum and basic requirements that are essential and unavoidable for a person is the core concept of the right to life.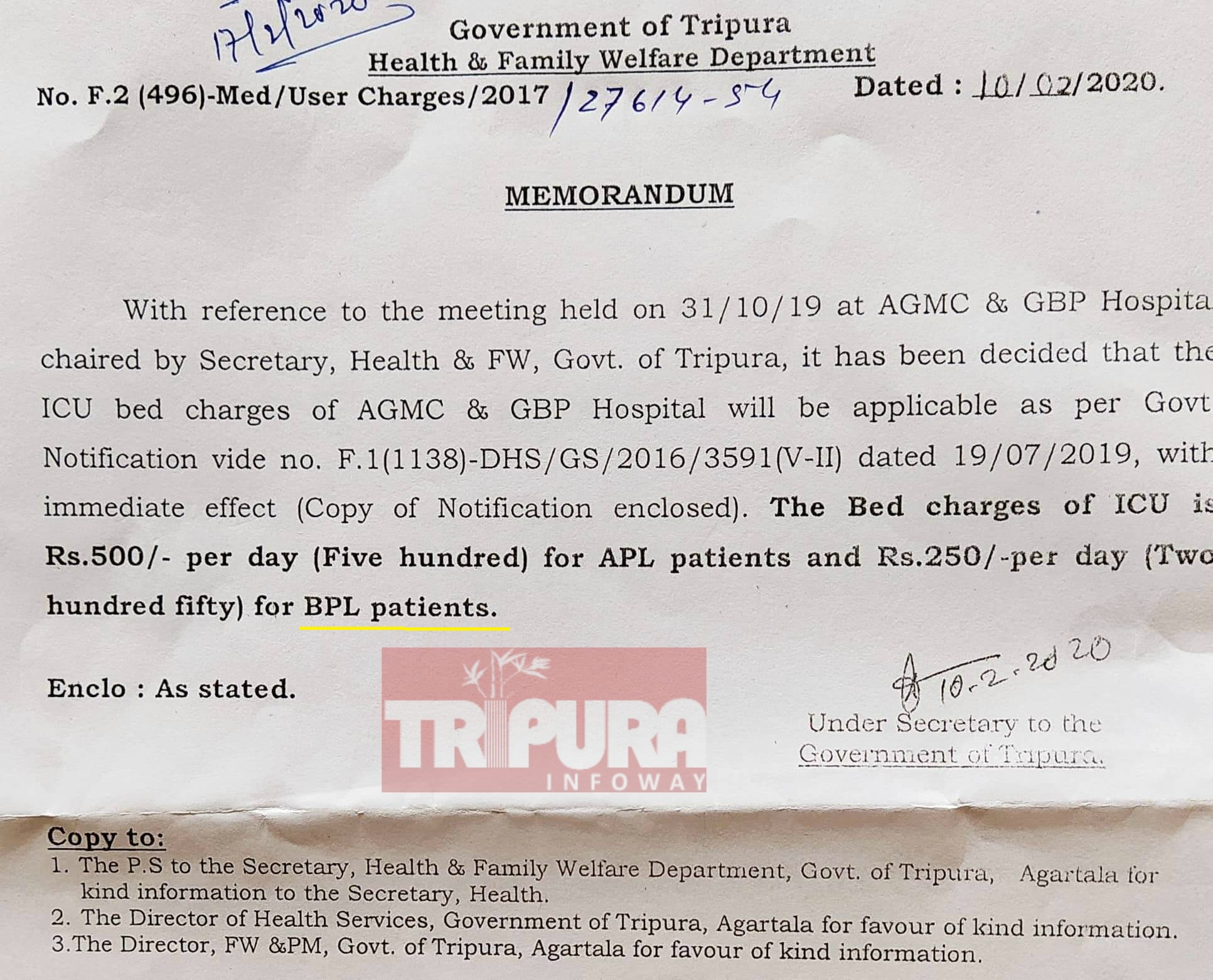 Doc : Tripura Govt's latest circulation by imposing ICU Bed-Charges