Tripura News
'Inhuman', cruel notification by Tripura Health Dept to punish poor, middle class people without treatment in Govt hospitals : ICU bed charges imposed at Rs. 500 for APL, Rs. 250 for BPL Patients !
TIWN Feb 18, 2020
PHOTO : Left : Health Dept notification imposing ICU Bed-Charges, Right : CM Biplab Deb. TIWN Photos.
AGARTALA / NEW DELHI, Feb 18 (TIWN): BJP Govt continues violation of Article 21 and Health Services are not even spared as Biplab Deb has imposed now ICU bed charges by snatching 'Right to Health'. This decision was taken after few months when Govt scrapped Free-Medical-Services. A notification which can't just be termed as "inhuman" rather a "brutal-ever notification" surely to kill the poor men and lower middle class people. Tripura Health Dept under CM cum Health Minister Biplab Deb has issued a notification to impose bed charge on ICU patients regardless APL and BJP. A BPL person now has to pay Rs. 250 whereas an APL Rs. 500 as only bed-charge and rest other things like oxygen and medicines are separate. So, now ICU will be given based on the economic capability of the patients, not for the need ! The notification was issued on 10th February, 2020 with a fresh signature of 17th February, 2020 from the day of effect. "The bed charges of ICU is Rs. 500 per day for APL patients and Rs. 250 per day for BPL patients", said the circular.
No.F.2. (496)-Med/User Charges/ 2017/27614-54 said, "With reference to the meeting held on 31/10/19 at AGMC and GBP hospital chaired by Secretary, Health & Family Welfare it has been decided that the ICU bed-charges of AGMC and GBP hospital will be applicable as per Govt notification vide no. F.1 (1138)-DHS/2016/3591(V-II) dated 19-7-2019 with immediate effect.
"The bed charges of ICU is Rs. 500 per day for APL patients and Rs. 250 per day for BPL patients", said the circular.
Earlier, the Govt imposed charges for tests, operations etc in the hospital by scrapping free medical services. Now, high charges of ICU bed per day is imposed.
https://www.youtube.com/watch?v=ehVCj3UvKe4&feature=youtu.be&fbclid=IwAR32D07GLBSK6HXzvDytVmaMLCg0BRlNU2w6Q__uYLDv__UDMHoSuvTJpCs TIWN YouTube Link. Delhi CM's statement over health service on oath-taking day fails to teach undeserved Tripura CM Biplab Deb.
Such decisions prove again that Modi Govt is not paying the State Govt of Tripura necessitating the State Govt to impose charges in each field.
When PM Modi before elections, called Northeast as India Asta-Laxmi, after election various taxes, hiked electricity, water taxes, scrapping of free medical services, trade licenses etc have left lives under suffocation.
When AAP came in power at Delhi with Kaam-ki-Raajneeti and CM Kejriwal said, shame on those CMs who take money from Govt hospital patients, seems Tripura BJP Govt didn't learn any lesson from the major defeat of BJP in Delhi election.
The fresh memorandum has generated mass resentment in poverty gripped state Tripura.
Such moves raises question whether PM Modi's "Gareebi hatao" means "Gareeb hatao" by killing them without treatment ?
In Indian Journal for medical ethics it has been said, "The Constitution incorporates provisions guaranteeing everyone's right to the highest attainable standard of physical and mental health. Article 21 of the Constitution guarantees protection of life and personal liberty to every citizen. The Supreme Court has held that the right to live with human dignity, enshrined in Article 21, derives from the directive principles of state policy and therefore includes protection of health. Further, it has also been held that the right to health is integral to the right to life and the government has a constitutional obligation to provide health facilities".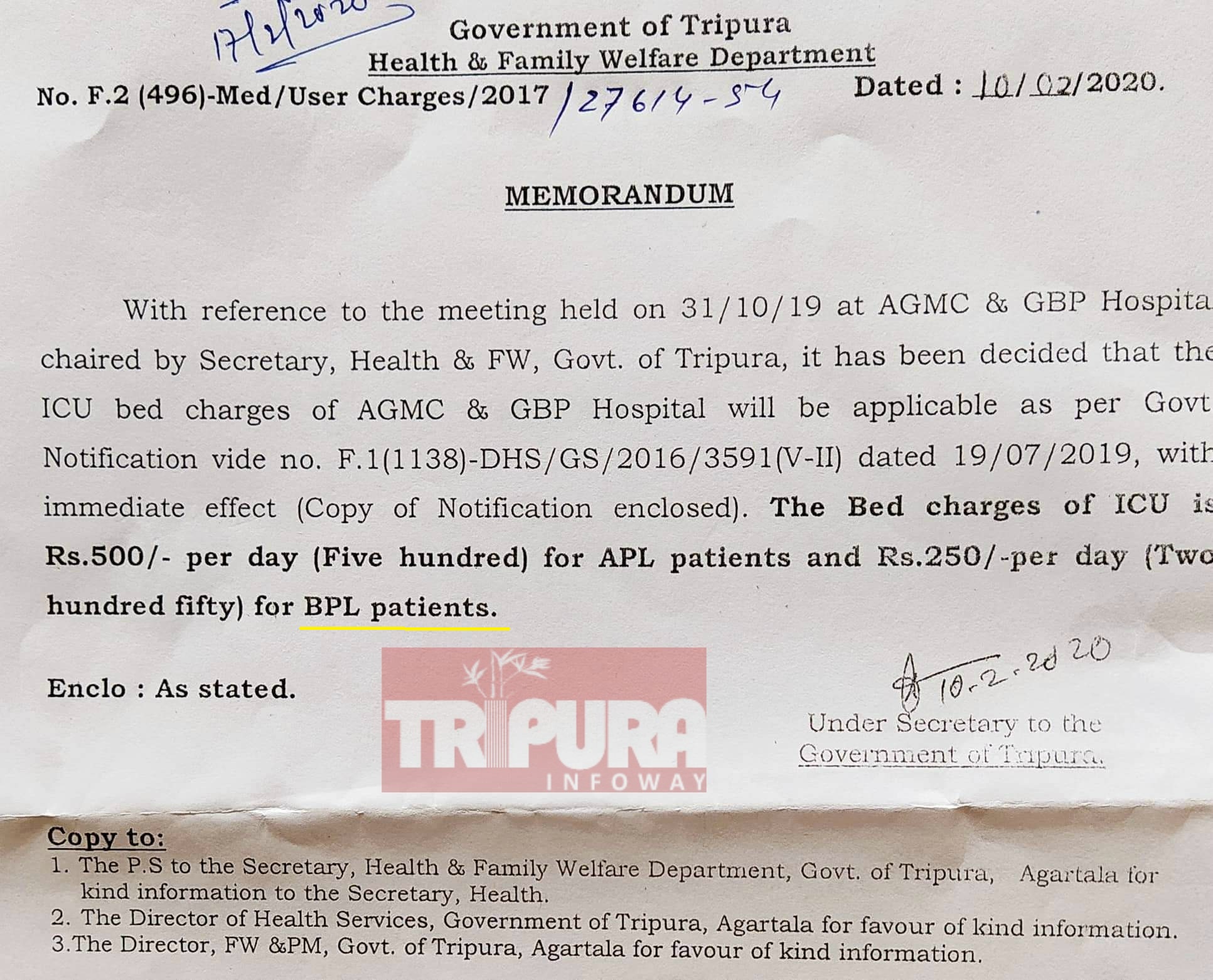 Doc: Tripura Govt notification