Tripura News
After LPG Price hikes, BJP's UPA era's protest photos go viral in social media
TIWN Feb 15, 2020
PHOTO : Smriti Irani in protest against LPG in UPA time. File Photo.
AGARTALA, Feb 15 (TIWN): Resentments are high in since LPG prices shot up higher nationally and social media users have made BJP leaders' protest pictures viral in social media which they did on UPA era's LPG price hikes.
Rahul Gandhi said, "I agree with these members of the BJP as they protest the astronomical 150 Rs price hike in LPG cylinders".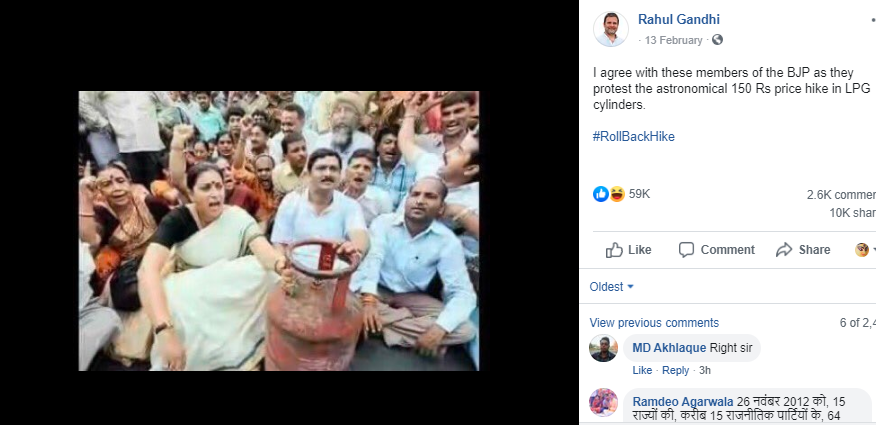 The resentment was erupted after on Wednesday (February 12) OMCs sharply raised the price of non-subsidised liquefied petroleum gas (LPG) cylinders, the sixth increase in as many months. It is worth noting that non-subsidised LPG is the gas that consumers purchase after finishing their quota of 12 cylinders of 14.2-kg at rates of about Rs 556.
As per Indian Oil website, which supplies 30 lakh Indane brand LPG cylinders daily all over the country, a 14.2 kg non-subsidised LPG cylinder is now priced at Rs 858.50 in Delhi, a huge jump of Rs 144.50 from its previous revision on January 1 this year. In Kolkata, LPG cylinder prices were raised by Rs 149 to Rs 896. An LPG cylinder became costlier by Rs 145 to Rs 829.50 in Mumbai and in Chennai by Rs 147 to Rs 881. The new rates are effective from today.