Tripura News
It's not just about 'Free', but Utilization : Delhi CM gives Free Bus Services to Women with Tax-Payers money, Tripura CM rides Helicopter, installed Gym in CM's Quarter
TIWN Feb 13, 2020
PHOTO : Delhi CM Arvind Kejriwal in bus, interacting with commuters. Photo inset : Tripura CM attends party programme after Heli-rides. TIWN File Photos.
AGARTALA, Feb 13 (TIWN): When a larger section of mainstream Godi media directly blaming the Delhi voters as 'lusty' saying Aam Aadmi Party won the election at its promise of Free Services, but the fact is totally different on the ground surveys. There were basically two issues to win the election : 1) Developmental Politics 2) To prove Work is Important than India-Pakistan issues along with Secularism is unquestioned part of Indian democracy and Kejriwal did it successfully totally avoiding 370-Kashmir, Saheenbagh like issues. Hence, when it is about Free, there is absolutely nothing free but it's called the utilization of the public funds. When an IITian like Arvind Kejriwal, Delhi CM wears middle class rate cloths, here in Tripura an undeserved person sitting on CM's post, who is unpopular for is low-speeches is wasting public funds by setting gym in his quarter, luxuries from Tripura to Delhi Banglows and visiting Party worker's marriage party with helicopter at Govt expenses.
On the other hand, women are given free bus rides in Delhi with the public money. When free, quality health services are given in Delhi, Tripura BJP Govt scrapped Free Health Services.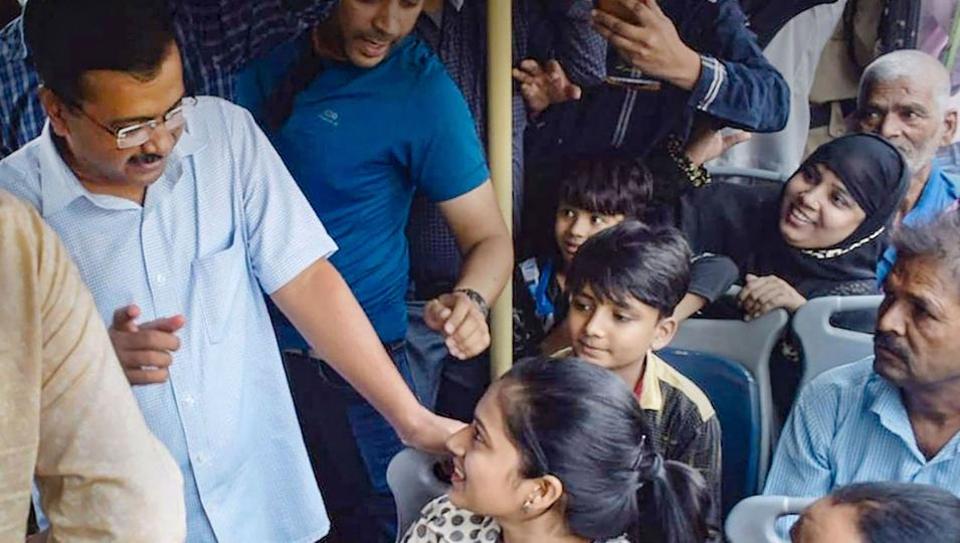 Delhi CM talking to the women passengers in public buses
However, a national report said today that the Bharatiya Janata Party (BJP) that mastered the art of vote consolidation through polarisation and reaped good political harvest seems to be faced with a situation where the time-tested tricks are failing to garner votes.
It worked well in the 2014 general elections and a slew of state elections including UP, but started failing after 2018. In 2017 UP polls when the Samajwadi Party was expected to return to power by forging a wide-ranging poll alliance, the BJP raked up the alleged Hindu persecution in Western UP''s Kairana to its electoral benefit. But the poll tactics failed to work in Chhattisgarh, Rajasthan and Madhya Pradesh.
It nearly lost Haryana and went out of power in Maharashtra after the Shiv Sena, longest alliance partner, refused to concede it the chief minister''s post. As the BJP failed to re-design its strategy, Jharkhand became the latest state which slipped out of its hands.
The party used the nationalism card to the hilt to consolidate support base in the 2019 general elections. It made Pulwama attack, Balakot strike and safe return of IAF pilot Abhinandan Varthaman its poll calling card. Modi swept back to power with 303 members in the 17th Lok Sabha. But the latest results of the Delhi Assembly polls show that the nationalism and polarisation themes to gather votes have completed its self-life -- at least in the present packaging.